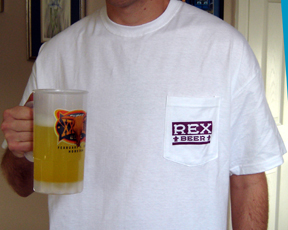 Nothing goes better with a frosty mug of brew
than a genuine REX Beer T-Shirt
In the summer of 2004, Crescent City Keepsakes™ became the
steward of the Rex Beer brand. Rex beer was originally brewed in the
1960s by Standard Brewing Company. And when the company was
sold, Rex Beer ceased production.

We hope to bring Rex Beer back to New Orleans and the world.
Please check out our first t-shirt and check back periodically for new
products. We hope to have REX Beer brewing by December, 2005.
Thank you for your support!